Football Parking
Priority Parking
Temple Athletics reserves a limited number of season-long priority parking spaces for Football game days. Access to purchase priority parking at Lincoln Financial Field in the White lot begins at a $250 annual giving level, with the Cherry lot at the Letterwinner ($110) annual giving level and above ($50+ for Graduate Owl Club members). For access to parking along Tailgate Row, Temples premier tailgate location, eligibility beings at the MVP ($2,500+) annual giving level per spot.
Premium Parking
Reserve your space today! Temple Athletics is now offering Temple Owl Club members exclusive premium parking options for the 2021 Football Season. As a benefit of membership, Owl Club members have the ability to purchase season parking passes in Owl Club premium lots. Offerings include the White Lot, the Cherry Lot, RV passes, valet parking and the best tailgating at Lincoln Financial Field – Tailgate Row. Over the past several seasons spaces in the premium Owl Club lots have seen an increase in demand and as a result there are a limited number of spaces available. Ensure a premium tailgate experience and take the worry out of your game day parking. Access to purchase premium parking begins with a minimum gift of $110 to the Owl Club ($50+ for Graduate Owl Club members).
TAILGATE ROW
For 2021, a limited number of spaces on Tailgate Row have become available and now is the opportunity to reserve your very own spot on the best tailgating row in college football. Tailgate Row is the only guaranteed reserved space and offers front row access to all pregame festivities, including The Fly In. Tailgate Row members will have a direct contact with a member of the Owl Club staff to ensure a stress free tailgating experience. Secure your place on Tailgate Row today! Access to purchase Tailgate Row parking begins with a minimum gift of $2,500 to the Owl Club per spot.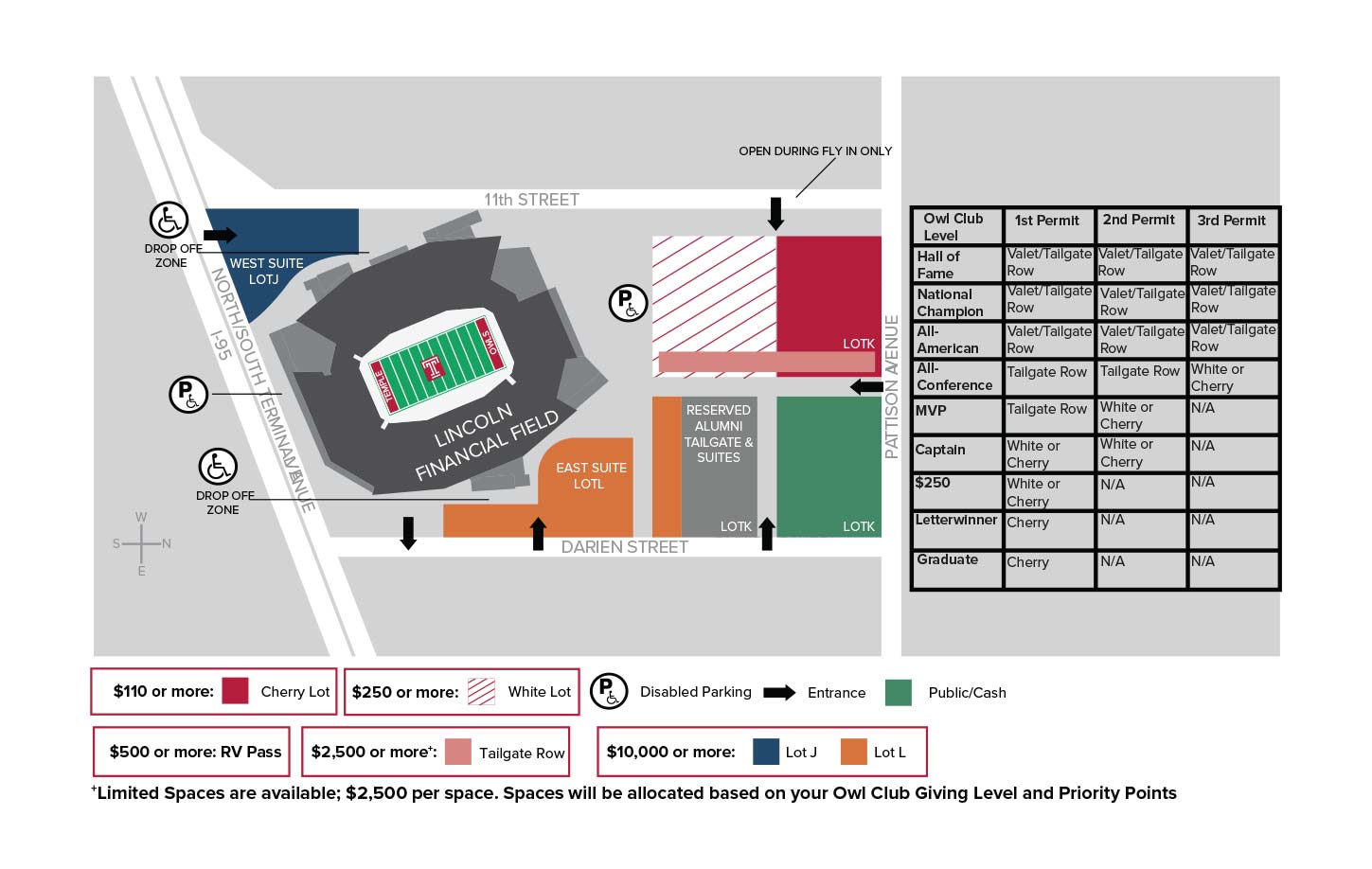 Click Here to Download Parking Map
Call 215-204-CLUB to purchase premium parking.
| Owl Club Giving Level | 1st Permit | 2nd Permit | 3rd Permit |
| --- | --- | --- | --- |
| Hall of Fame $50,000 | Valet or Tailgate Row | Valet or Tailgate Row | Valet or Tailgate Row |
| National Champion $25,000 | Valet or Tailgate Row | Valet or Tailgate Row | Valet or Tailgate Row |
| All-American $10,000 | Valet or Tailgate Row | Valet or Tailgate Row | Valet or Tailgate Row |
| All-Conference $5,000 | Tailgate Row | Tailgate Row | White or Cherry |
| MVP $2,500 | Tailgate Row | White or Cherry | N/A |
| Conwell $1,000 | White or Cherry | White or Cherry | N/A |
| Captain $500 | White or Cherry | N/A | N/A |
| $250 | White or Cherry | N/A | N/A |
| Letterwinner $110 | Cherry | N/A | N/A |
| Graduate $50 | Cherry | N/A | N/A |